June 17, 2009
So I flew out to Vegas on June 3rd after I got off work. My friend Mike and I met at my girlfriend's house, who was kind enough to drive us to the airport. (Thank you :) ) We hopped on our plane, ready to hit the strip in 5.5 hours. We knew we had to hurry because those guys handing out hooker cards are bound to run out sooner or later. We find 2 seats together, next to a girl in the window seat. Little did we know that said girl was a few cards short of a full deck, and also equipped with super hearing. We learned this rather quickly though as we proceeded to sit on the airplane for 2.5 hours before taking off. The pilot would update us regularly that there was "lots of weather out there" and "still weather out there." Of course there's weather out there. There's ALWAYS weather out there. What he meant of course was bad weather. The funny thing is, it was clear and sunny and we had to wait over an hour for the doom clouds to appear. Sweet, glad we waited so now we have to wait. Anyway, so pyschogirl is the type who talks to herself and yells things like "ARRGHH WHY AREN'T WE FLYING YET!" I tried to explain that there was quite a lot of weather out there, but she would have none of it. "I JUST WANT TO BE IN VEGAS," she shouted. And I just wanted a tranquilizer dart large enough to knock out a wooly mammoth. Sometimes we don't get what we want.
So we finally take off and get to Vegas without any problems. Oh, other than nutso having to go to the bathroom 6 times. If your bladder is the size of a thimble, DON'T PICK A WINDOW SEAT. Although I probably shouldn't be too upset at her lack of seat selection skills – at least she didn't piss on me….as far as I know.
So we land in Vegas, hitch a cab to the Rio, and meet up w/ my other friend, Justin, who got our room comped for the week. We head up to the room to unpack and rest a bit. Then we walk in and see a very oddly placed window.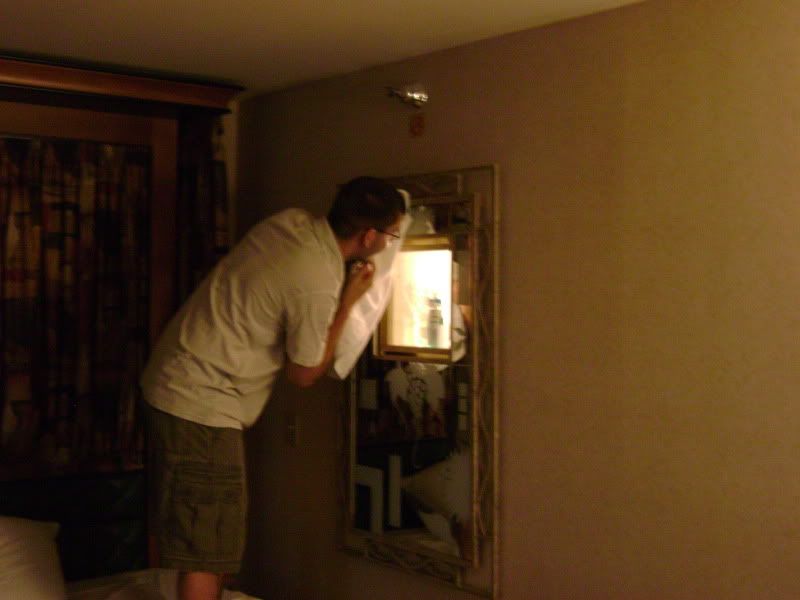 If you can't make it out, that is a window above one of the beds which looks directly into the shower. Now don't get me wrong. I can see where this would be a great little addition to the room, but not a room with 3 dudes. And I mean, really, who puts a window there? Anyway, we covered it up with a hand towel so as to avoid any accidental full frontals. That's -EV for sure.
At this point, we were all pretty hungry so we went down to the All American Bar and Grill. It's about 3:00 am and we just want a little snack. I ordered the chicken tender appetizer. Apparently appetizer means HUGE MEAL in Vegas. I didn't even finish half of it. At the end of the meal, the three of us decided this was a great time to try out this fancy game everyone seems to play – credit card roulette. It kinda sucked that there were only 3 of us, making the game a rather short one, but whatever. We had the waitress pick one card, then another. Whoever's card isn't selected has to pay the whole bill. Mike's card gets picked first and Justin and I have to sweat it out. Then she picks mine! Wahoo! My first foray into the world of degen CCRoulette was a successful one! The trip did not start out well for Justin. On top of paying the bill, he lost a good bit in the pit waiting for us to arrive. Southwest sent both Mike and I $50 vouchers for our flight being delayed. A nice, unexpected gesture. I wonder if they'll send Justin a voucher for costing him $ in the pit?
Posted By TecmoSuperBowl at 07:51 PM