March 27, 2010
Well I decided after the pretty awful beginning I've had to 2010 irl to set myself a little fun challenge and, as you're aware from my last blog, I set up an account on Full Tilt and I'm going full on Road to Robusto style and you'll be able to follow how I'm doing on this blog.
As I've sure any LHE guy on DC is aware the Dojo Master Entity back in…2007 I think…geez I've been a member of this site THAT long….embarked on a little project on Full Tilt to mark out how to get up the stakes.
Now I kind of did that last year but I've got to be a little protective of my Stars Bankroll at the moment and I have Bonuses on Full Tilt to clear so this seemed as good a time as any to have some fun with it.
The challenge is this:
Hand Volume:
I am due to fly out to the US on 20th of May. Before then I want to have played 20,000 hands of poker between writing this blog and then (bear in mind I only played 42k the whole of last year).
Bankroll:
Start out with $599.99 becasue of the f**king excahnge rate not allowing me to deposit exactly $600 which also means a $599.99 bonus and 27% RB (Thanks DC).
Moving Up Rules:
I must move down if I ever have 500BB for the limit below, although I refuse to play lower than 0.5/1, and I can move up if I can take a 100BB shot at the level above while maintaining 500BB for the lower limit.
So in case that confused you…
I can take my first shot at 1/2 at $700 as losing 100BB would leave me with $500 for 0.5/1 (or Rush poker as I'll be playing)
I can take first shot at 2/4 at $1400. Same deal.
If I'm playing 2/4 and my bankroll goes below $1000 I have to drop back to 1/2 until I hit $1400 again.
Fortunately things got off to a pretty flying start and the first hurdle was dispensed with in just over 1100 hands of Rush Poker.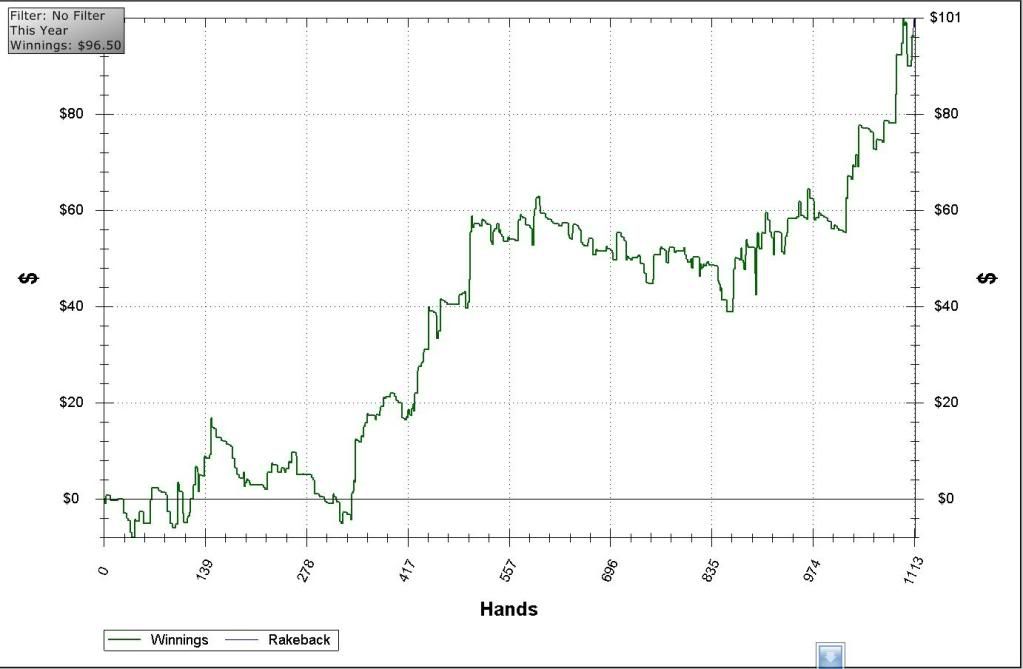 With the might $3.66 in Rakeback I got that's $700.
So next update should be from 1/2, we'll see how that goes but hopefully with Bonus at RB flying around if I don't get a bad start I should be able to stay there.
This should be fun
Take Care Guys
Posted By Boomer at 12:27 PM