December 11, 2010
Did you think I was just gonna leave hanging there, did you? Well, buckle up, because this one is going to be long and will have lots of graphs. It's gonna be a whole lotta simulatin' going on.
First initial conditions: I am running basically a Monte-Carlo simulation of 100.000 Rush LHE tourney. As such, the fixed variables are the structure and the variance for FR LHE. Your winrate is going to be varied, but fixed throughout the tourney. The structure of Rush LHE tourneys is really weird. The first 10 levels are 6min, then 8 levels of 8min, then 6 levels of 10min, then 5 levels of 12min, then 4 levels of 15min and finally 20min thereafter. Notice that this is quite fast, it's "Rush" after all, hehe. In the tourney I played money bubble was around level 20 (about 20 minutes after the 2 hours mark). I know the whole tourney took 5h 34min to complete, but I have no idea when the FT bubble was, so the numbers there are approximate.
There are some caveats in calculating your theoretical expectation hand for hand, because of the non-continuous nature of bets in LHE (it's really quite difficult to win 1.332 BBs). Also the limiting case before you die is a bit iffy, since in my simulation you could basically go up to 1.5BB from almost dead at 0.1BB and in real life there's no way you can 15-uple up. But for all intents and purposes this mimics real life.
So without further ado, here are graphs on how the tourney proceeds for the 100.000 people throughout time. Please ignore the wiggles and stuff for the last few levels, the errors get quite huge there, because we're talking small number statistics, be assured that are all well within the errors. I don't show them here, because I'm lazy and this isn't a scientific paper for crying out loud (it would take a long time).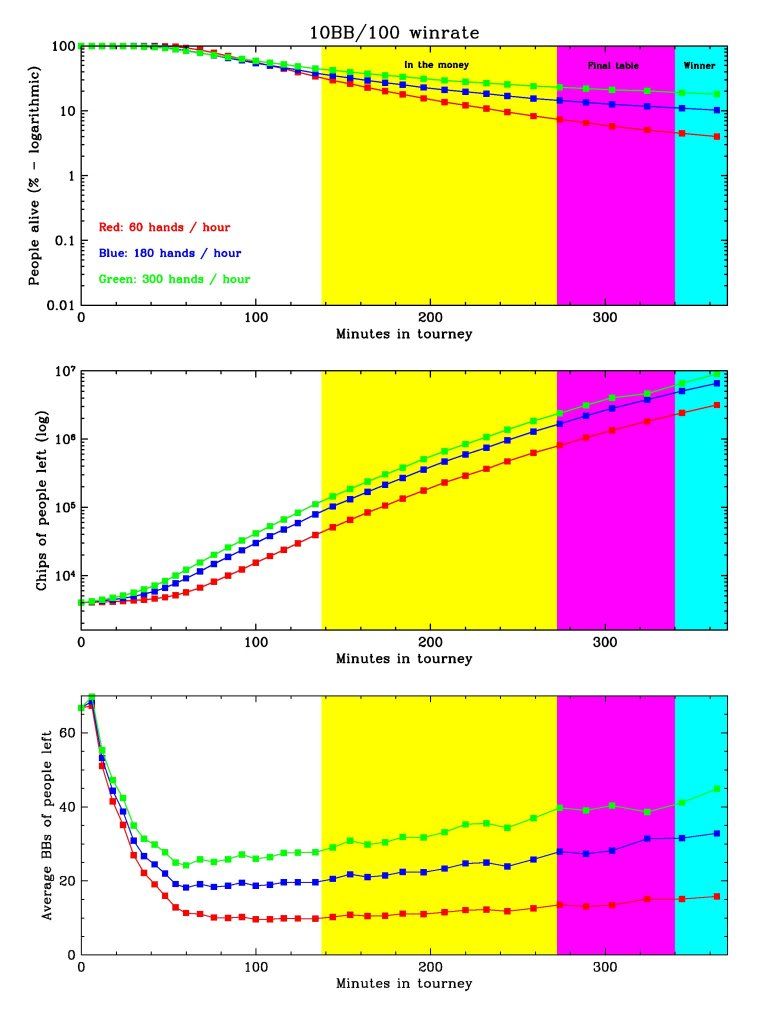 Graph 1: 10BB/100 winner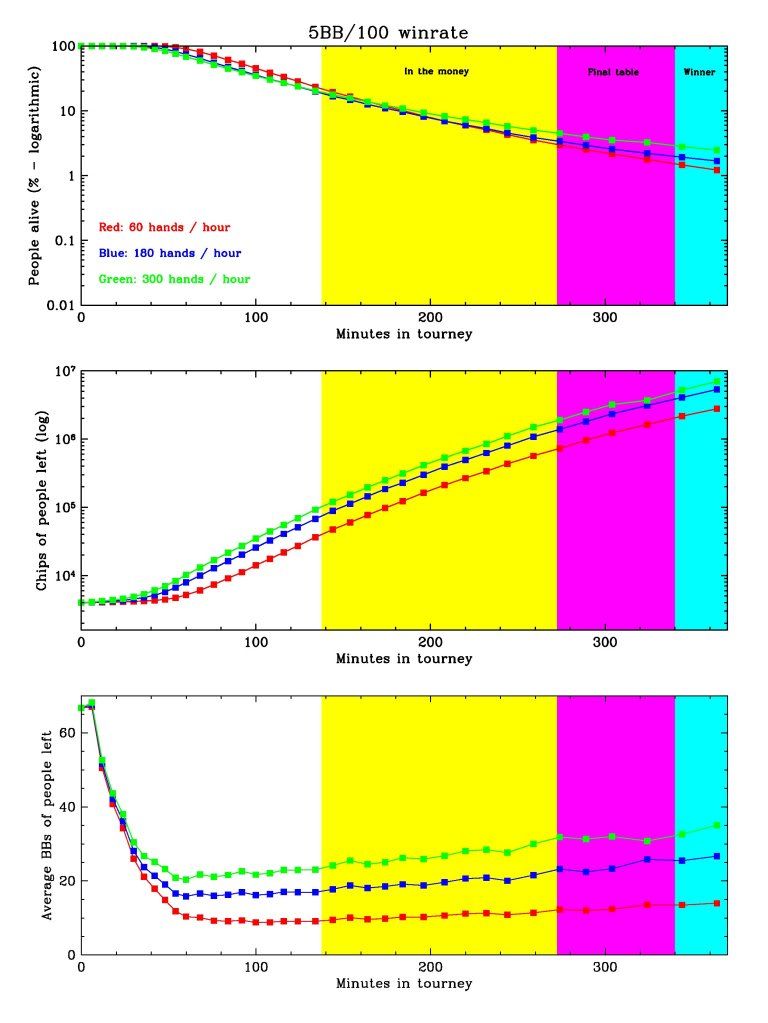 Graph 2: 5BB/100 winner
 Graph 3: 2BB/100 winner
 Graph 4: Breakeven player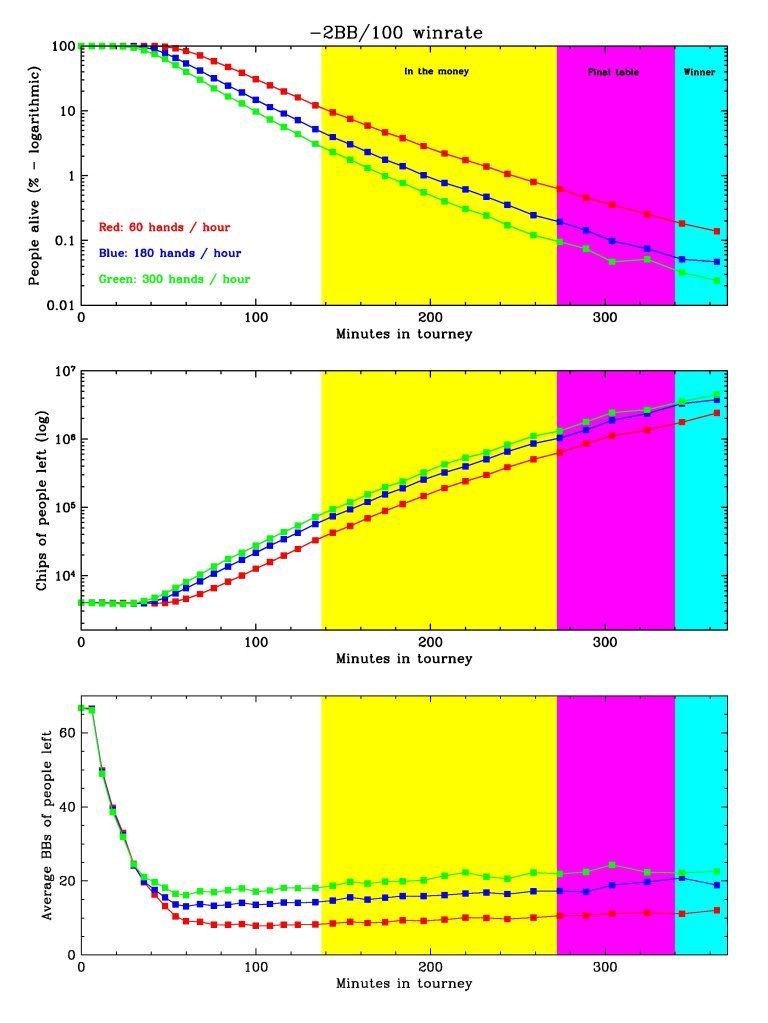 Graph 5: 2BB/100 LOSER
As always red is the slow player, blue is the medium player and green is the guy that plays his hands as fast as possible or how I suggested. Every point is a level, just to make you see how long tourneys are when you feel good that you finally reached another level. Notice this funny thing with LHE tourneys that in the first levels nobody dies and then suddenly at Level 10 or in live tourneys I guess it's like at level 3-4 suddenly the players just start frantically dying giving the need for the "player alive" plot to be shown in logarithmic form. The tourney skill doesn't change over the course of the tourney, so you always have that winrate, which is obviously wrong, but good for initial visualization.
The lower graph is the average BBs of players left, you see that after the initial drop, slowly the people dying start equaling out and the blind level for people surviving remains fairly stable. You see that the guy playing fast will always have the most wiggle room with around 15-25BB, but also this is risky, because he will go broke often. It is interesting that the structure, however fast, is actually quite good at the late stages, which is where the money matters, giving you fast and quick play easy and much more fairer chance for skill to develop later (see the average BB of players left to get an idea of that).
However, the graph that we are most interested in is the one with the inflection points. How many people are alive at certain stages of the tourney playing fast, medium, or slow?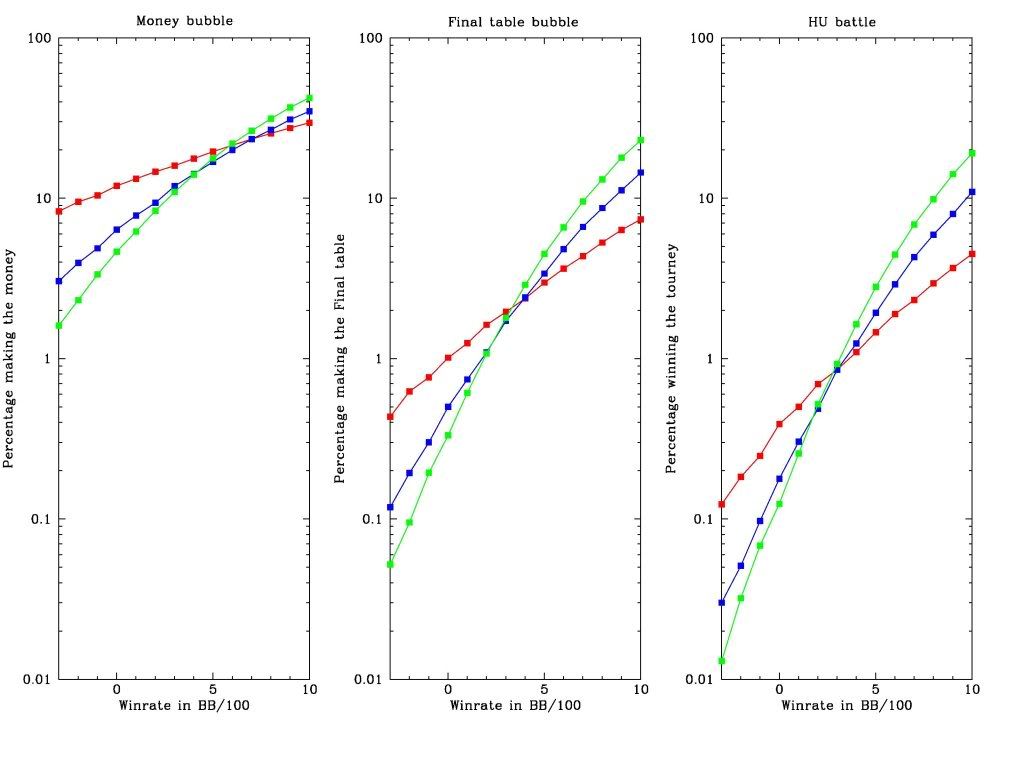 Graph 6: Players alive during certain inflection points in the tourney
Well, that is interesting, isn't it? It means that we shouldn't just blindly take any +EV opportunity and rather play conservative unless we have a big edge. The turning point is around 3BB/100, which is large, but not super duper large in a rakeless environment. But how large is 3BB/100 really? Not that much actually, it's 0.03BB/hand. That affects hands that are very close in EV! Think about that for a moment, I will come back to it next post
Also notice how many people limp into the money by simply folding when they don't have an edge. Wow, this is of course the consequence of this being such a fast structure, but they definitely get weeded out by the time the significant money appears.
I will talk a bit about consequences and caveats more in further posts, especially the transfer to specific hands and cases. I will also to a graph with varying skill, slower structures and will talk a bit about NLHE tourneys. For now, just let me assure you that I'm not claiming anything outrageous, in fact I'm actually reinventing the wheel, but it helps me, look at a post on 2p2 a few years back on that, Graph 6 visualizes that statement: link
But I would add to that, that you could actually not pass up on small edges if you're the best player there, and that playing aggressively will yield you even more than passing up, especially if you're the best player. However, you need to be careful assessing your edge all the time. Are you really a 5BB/100 favorite over the field over the whole tourney? I didn't think so ;-)
Posted By bellatrix at 12:06 AM