August 12, 2010
Hey guys, it's been long, but as I said in a twitter some time ago, I just couldn't muster the inspiration to write. And it's funny, because it's when I have been playing the most poker that suddenly I haven't been blogging as much. So this blog post will be about that trip to Vegas one and half weeks ago, the next one will be about the rest of poker I have been playing online, at Commerce and at the home game.

So, Vegas. Yes, why were we going now? Is our little family just a family of degens that needs their bimonthly Vegas fix? What does it say when my daughter starts saying "well mommy, the Ceasars's Palace simply is a better place to stay than the Mirage" (she's 4, by the way)? Ah well, but we had an excuse. Our friend the Catholic priest was on his honeymoon. Yes, before you say: "Uh, that's impossible!", he's of old-Catholic denomination. It's a very small congregation in Germany, as most of the people that don't follow the celibacy stuff are actually Lutheran. But in reality "Old-Catholic" = "Anglican", so there. Anyways... the couple doesn't have much money, this was "the trip of a lifetime", they had done the San Francisco - Yosemite - LA - Grand Canyon - Utah NPs tour and were now on their way back. Friday was his birthday. What better way to celebrate than a surprise party in Vegas? Ha! Their friends from San Francisco were also in town and they are actually rich, so choose the Mirage (even though that's above our budget).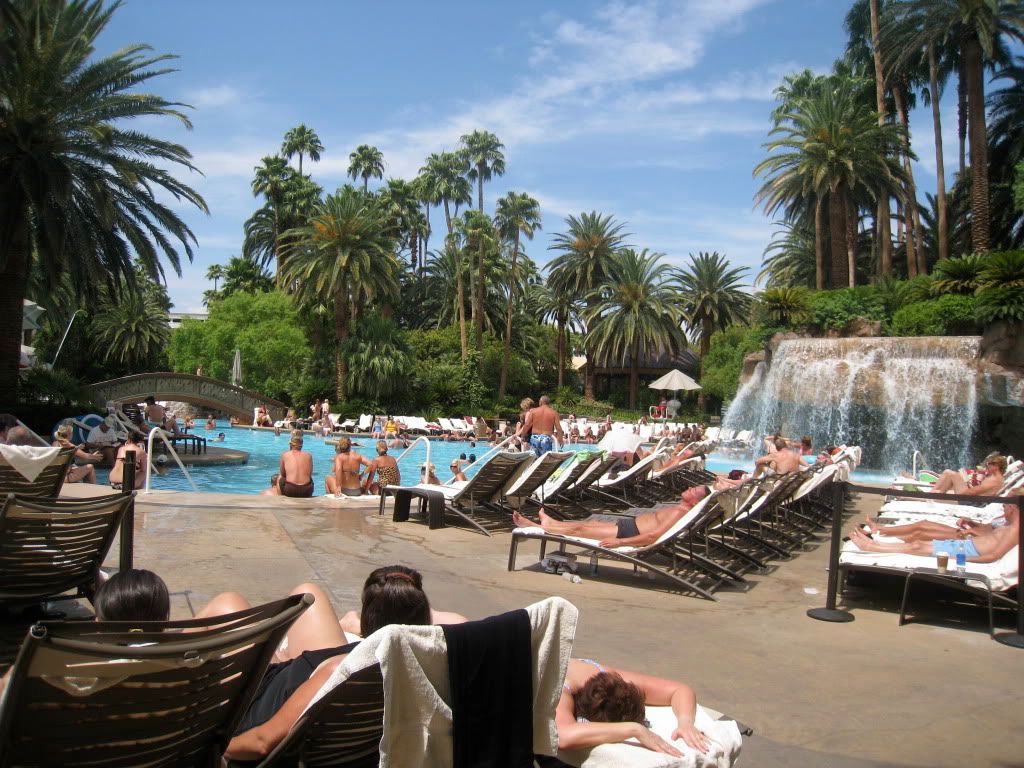 So we arrive on Friday afternoon and everything goes off extremely well. "Surprise!" is screamed and he is surprised. Cake is had and it is good. Smiles all around. But wait, we gotta go! 6pm reservation at Musashi, the teppan place that is recommended by all the poker guys. It's off strip, so that's definitely a plus. And it's good, although just the teppanyaki, the sushi is overpriced and meh. But wait, it goes on, it's a birthday after all... a stretch limo picks us up at 8 and we do the tour of the "Welcome to Las Vegas" sign, the Bellagio fountains and the Mirage Volcano. I had never been in a limo before, but I found it to be kinda uncomfortable, but the kids had a blast. Finally the guys went to have some drinks, while the mommys went to bed... don't worry, mommy will get to gambol tomorrow.

I'm gonna spare you the details of family vacation. Let me just recommend you the Mirage pool and the Mac King Comedy club. The pool because it's beautiful, even if full and the show, because it's super cheap and still kinda quirky fun.

Anyway, finally... poker!!! Where do you play the limited hold'em? Why, the Bellagio, of course, the only place that has anything above 10/20. But first I had drinks with the "Black Widow of Poker" , always fun to meet females that also play poker, and this one actually does it for a living... even if she's mostly a NL player ;-) . Many of you guys probably know her boyfriend *TT* from 2p2 fame. After drinks he came around, too and we put our names on to a 15/30 list. Lemme tell you, Vegas poker after WSOP is pretty dead. The Bellagio room was pretty quiet, only about half the games were going. The high limit section had a 80/160 game going, but most of the people were old and looked like they were falling asleep. No pizzaz, nothing... A ghost of what it was a few months ago. I began missing Commerce.

While we were waiting *TT* gave me some Badugi pointers, and keep in mind, my foray into Badugi have been drunkern .5/1 or 1/2 shots at Stars, so I don't have that much of an idea. As always with a game on which there is little information, there are very dfferent views on how to play certain situations out there. I think it's a bit like handicapping, everybody can do the NFL lines, maybe even college football, but when it comes to the WNBA, everybody has dissenting opinions.

Anyway, we finally get into the game, and it is good. I don't remember any specific hands, but Vegas peeps are so passive. And the dealers are soooo slow. And they're old. I begin to miss my Commerce Asian efficient dealers. Then again, people are playing 15/30 like it's 8/16 or even 6/12, so whaddya expect. I win some, lose some. Pay off some spots where they had to have trips+ with 2nd pair (bad bellatrix, bad bellatrix). Then I win some pots with high pocket pairs. Most of my profit comes from a pot where I have 99 against *TT*'s AK on a A9x board. In terms of poker I leave up 'bout three fiddy (always wanted to say that).

The most exciting thing was the fight! Yes, there was a fight. While we were playing suddenly there was some yelling and scuffling. As I turn around I see this kinda fat guy dressed in black go against an older guy (like 50ish). He kinda grabs him, but not really since the other guy is backing away. The fat guy keeps screaming "I'm gonna kill you! You hear me? I KILL YOU!!!". Oh and the floor? Is standing there. Some looking away, just the dealer saying "please stop". I look at TT in horror and ask "Where is security?", he calmly tells me "There is none." Strange, because we had just talked about this very subject like an hour earlier. Anyway, old guy is wise and goes away. Five minutes pass and the guy dressed in black finally has calmed down... guess what? security shows up. YAY! In the form of some huge overweight black dude. Awww, fight's over, you're late, man! Wow, I miss Commerce even more.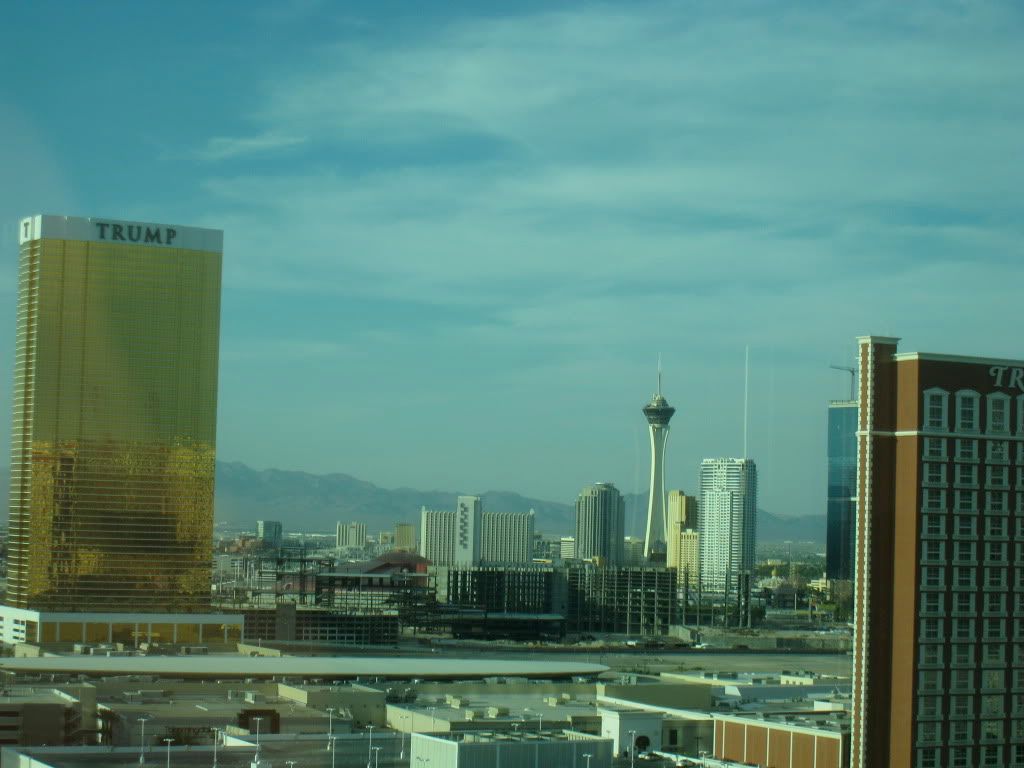 You probably don't wanna hear about the decadent buffet we had on Sunday at Bellagio. Ugh, just thinking about it, I'm still full. As I was rolling out of the buffet, I get very sad, because I ate so much. Well, after that buffet, I decided to lose weight. So 10 pounds in August. Let me tell you, I'm doing horribly. I have lost a whole 2 pounds in 10 days, even though I'm exercising and eating so little.... sigh.

Oh oh and before I leave you, I'm gonna put on my astronomer hat today and urge you to look outside the next few nights. The Perseid meteor shower is in full swing, with the maximum coming on the night of August 12. Along with that is a great planet conjunction, so you'll be able to see meteors, planets and much more. Just grab a bottle of wine go into your garden and enjoy... or like me actually debating if I should go camping on Friday :)

Next blog, how I hate online at the moment, but am racking up the points, how I pwn people at the Commerce and the home game and much more!!!

Posted By bellatrix at 08:40 AM