June 18, 2010
I don't sleep very well. Both my daughter AND my husband manage to fall out of the bed, which is weird and very loud; especially the crying of my daughter afterwards, poor little thing. At 8am the phone goes off and it's a business call for my husband. Who the hell calls on a Saturday morning at 8am? But as I lie there in the bed I'm reminded of this old woman that was very tired at the end of Day 1 and asked why we were playing so long (it was close to 1am). They said something to her that for the tourney to run smooth, they had to play 10 levels. Then she suggested: "Well, why don't you start tourneys at 8am then?". I conceded her the win, because there's no way I would show up for a tourney at 8am so she automatically wins. The dealer was very diplomatic in telling her that's not the way that things work in Las Vegas.

Anyway, I get up at like a quarter to 10 and guess what, I'm not tired. No really, I feel good and I'm hungrrryyyy. We go to the Black Bear diner around the corner and I devour some Eggs Benedict with Hash Browns, mhmmm. While we're eating breakfast, there's some confusion with BBB about watching the game, it seems OTR15 wants to meet up with Joe and other DC'ers at an Irish Pub, but that Pub is packed (I saw the papers the next day guys, they photographed exactly THAT pub, it was packed). In the end it stays with watching the game at their place, but by then it had already started. And the limidonks house? It's super great and all, but it's faaaaar. Dudes, you should look in your garden if there are not any bodies buried underneath, because it's in the middle of nowhere in the desert. But alas, huge housing communities in the middle of nowhere... and they wonder why the housing market in Vegas went bust.

By the time we get there, the US is in the process of scoring their goal, or... let me rephrase that, the English goalie handing the US a goal on their platter. Lots of debates ensue about the chances of Green's survival etc. OTR15 is live blogging the whole event. PygmyHero makes nachos with cheese, but I'm still full from the Eggs Benedict.

I wish I could say some more about the game, but it was kind of boring in the second half. Both teams looked meh, like the US had some flow in their game but didn't capitalize and I could only see the English complaining. But meh, I'm german, so I'm biased and the English always look lol to me (are you still reading "ILoveBunnies"?). So after the anticlimactic draw we pretty quickly say our goodbyes. Nice to meet you, Jaybeastie and allstarrt!

We make the odyssey back to Vegas and I get there at 2:10pm when the event resumes at 2:30pm. Husband and Anna are on their way to having another great day in Vegas (GoKarting, MagicShow, the tigers and dolphins at Mirage, etc.). The weekly 1k just got their first break and it's a sea of people. And it's loud chatting and yelling into phones about chipcounts, bad beat stories... I'm still amazed by the AMOUNT of people. Hey, can you tell, I've never been to the main event?

I get to my table with 5min to spare. We unpack the chips and I quickly see like 3 shortstacks at my table. But wait who's that with the megachipsack in Seat 1? Dealer says it's Liv Boree's bag. Oh goodie, well at least she's on the opposite side of the table. And look heh, this time I came prepared with my DC hoodie, thanks Chuck! I didn't have any real heavy sweaters, just a bunch of long sleeved Tshirts, but the hoodie man, it's great for the Antartic that is the Rio. Notice how I still look happy putting out the blinds, even though my stack is nothing to write home about.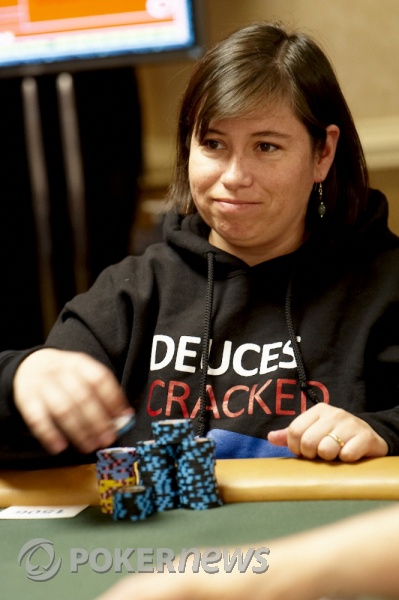 Ok, shuffle up and deal. We're 19 off the money. I must admit that I said to my husband I wouldn't get into stupid dick waving contests, especially not at a Ladies' Event (yeah, bad pun). And I know I should play to win, but I got an M~10, 20bb; I don't need to play to go first in chips or bust. 800$ (the min-cash profit) is a lot of money for me, some of you may laugh, but leaving Vegas up 800$ would be sooo cool for me. So I know that they'll abuse me, but I think how cool it would be to fold myself into the money. Oh, how wrong I was...

The show should have been called "Me and Boree" (get it, instead of Dupree, no?, ah well...). It's like 20 minutes and like 10/136 ladies have busted. Not at our table, our table just keeps handing Liv their blinds and antes and if it's not Liv, I'll take them.

Bubble time, hand for hand. Who will steal the blinds and Ante's this round? Me or Liv? Very exciting... yawn. We're in the Top 3 finishing tables like 7/8 times. One time we saw a flop when somebody just wouldn't take it from Liv and defended her big blind aaaand then gave up on the flop. During the pausing between the hands Liv and I chat a bit. She's an extremely cool chick. I know she also studied physics / astronomy and we chat a bit about quantum, solid state and Jodrell Bank. Some other ladies are interested in my work and we talk a bit about the Hubble Space Telescope among others.

1-3 off the money, I don't remember. I'm in the small blind with Jh3h. Lady to my left is shortstacked, but not desperate shortstacked. Like I'd fold to her shove, but I can still put out a big enough raise to scare her. So I do, because there's these antes in the pot and I like black chips and my hand is sooted. And she pauses... Oh well, I guess our streak is broken, we won't be among the Top 3 finishers this time, we'll see a flop and I'll lose some more chips, but hey, maybe the flop will be 333... yes my mind is wandering like that while she is studying my face. And she folds JJ faceup. My face must have looked like Phil Ivey's when Jen Tilly checked her full house on the river. I know, I know it's not nice. The lady goes on to tell the whole table her story, that she was bubble girl last year, that she went out with exactly that hand, that she knew she was ahead, but didn't wanna get sucked out on...

Bubble bursts, we clap. The small lady in front of me is so happy. This is the first tourney she's even played in and she cashed. And she has 3bb left... Still, more power to her. I'm sorry if the following things are out of order, I honestly don't remember
 
- I pick up AQo in the CO, Liv opens, I 3bet and get the massive staredown, for like a good minute and a half. Wow, live poker, I must have like 20,000 tells, so I just think Eggs Benedict and she folds.

- I 3b a shortstacked CO open with JJ on the BTN and she folds QQ faceup pretty quickly. She has mumbles something angry like "... raising... what to do?" I have the same dumb face as in the J3 hands and it's dumb, because now the whole table knows I haven't been getting AA, KK every hand :P

- I open TT UTG, the nice little lady that had 3bb left goes all-in for her last 2.1bb. Liv does a massive re-raise, she has double my stack and I know that she's playing for stacks in a semi-protected pot. The hand is reported wrong on PokerNews  . I was the one that opened to 3,600, the other girl only had like 1,800 left. So I fold, because I'm chicken and don't wanna go out with a min-cash race and hey, she might have me dominated. Alas, she had AK and Liv said she would've played for stacks. The flop came low, but the turn was an Ace and I would've been out. Liv put me solely on JJ she later said to me. I think JJ was the theme of the evening.

- The last man of the tourney gets eliminated and the cheer is almost bigger than when we made the money. The floor lets him go with a "Congratulations, ma'am!" He actually looks pretty happy with the cash.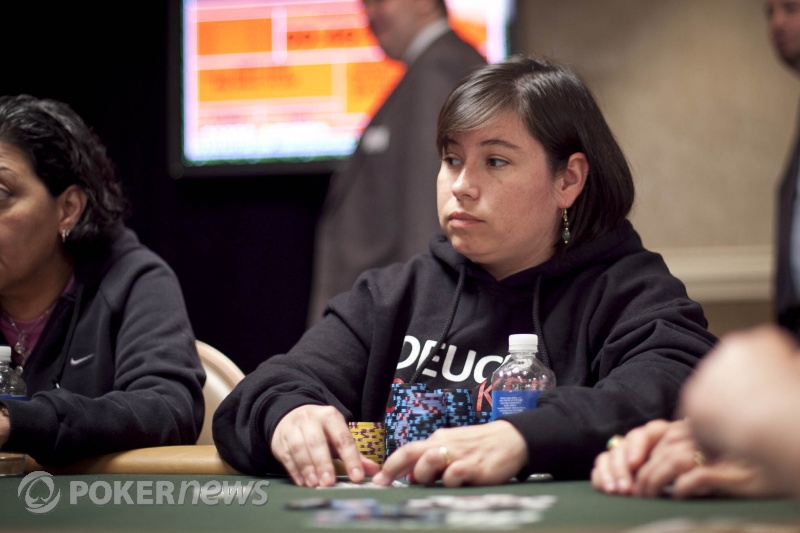 1st break. See how I have more chips now? I have chipped up to 36k and have gotten over average. But the ladies have been busting pretty quickly, we're down to 88, so the average is like 33k, lol. I can't concentrate and go to the bathroom twice, because we're not supposed to leave our seats anymore and I wanna make sure. I must admit, I'm suddenly very nervous, I've got at least 2,124$ payday and I'm ok in chips.

After we're back I steal some more, but it's mostly the Boree show. She busts somebody with T9s (vs A5s, river 9), rivers a wheel on somebody (AT vs TT, I think). I sit there thinking I'm a damn chicken, because I'm actually folding to 3bets now. There are new players of course everytime Liv busts someone. This old lady sat down just before break, has somewhat a good chip stack, but I never see her play a hand.

Not... one... single... hand... In 30-35 minutes.

So she opens to 5x UTG, EVERYBODY gets out of her way quickly and I'm in the big blind with JJ. I think of what to do... I can't fold, yes, I saw some ridiculous laydowns this tourney (one lady folded correctly her KK to AA on a low dry board), but I can't do them, sorry. I got 40k and am thinking if I 3b to 18k can I still work with 20k in chips, fold to a 4bet shove? But what if I fold the best hand? Sometimes the over-raise (5x) with stuff like TT, 99 because they don't wanna get called. If there's an overcard they often won't cbet. That whole thing runs through my mind, I should've just shoved, she has me covered by 5k and gotten on with my life.

But I call, thinking that I might fold to a substantial cbet, because she won't cbet AQ or 88 unless she flops something, but she will cbet better.
Ah well, good intentions, but I have a brainfart. With a TT9 (BDFD, BDSD, lol limit players), I decide to turn my hand into a bluff and c/r allin. Just shoot me. I know the hand plays itself and I would've lost the stack anyway, but it's the play that matters, my dumbness. Yeah, she was AA and pretty much instacalls. Not even debating if I could have caught some part of the flop (there's a straight flushdraw out there for QJs and 78s). Anyways, I don't suck out and just like that, I'm out.

The organization of the tourney is amazing, you are led to the official computer that reports your position and all, then you go to the cage and the photocopy this and lead you there and you sign over there and... suddenly I have the cash in my hand. It all took like 15 minutes, but I'm still seeing AA > JJ in my head... :( Liv was very kind in that she said the hand played itself, but I do what everybody does that doesn't go out with a bad beat "could I have gotten away?"

As I sit there, some very nice friends congratulate me over Twitter. Everybody's very happy. And then I receive a picture of my daughter having one hell of a time at the GoKart track. She looks so happy... And yes, suddenly I'm very happy and the tourney is almost a distant memory now. I have A LOT of dollars in my purse (I had brought some to play cash games up to 30/60 + the 2k prize) and that gives me a huge grin. I feel balla. So I call my husband to go for dinner, my treat.

Well, the affair doesn't end up as fancy as I envisioned. Yes we have the wine and the Filet Mignon, but it's at a Coffee Shop, because it's Saturday night and the Strip is ugh, and every restaurant has a huge waiting line. But at least it's cheap and yummy, so there.

I tell my husband to hold me back, to not let me go seek out a cash game, because I'm in no condition to play poker right now. Yes, I'm happy now and I won and all that, but the hands are still lingering in my head. Ha! No money for you cash game players, I'm not donating today while on tilt! So we get to the hotel and I keep on reading "Girl that kicked the hornet's nest", almost finished the trilogy. I fortunately don't dream of poker that night.

Only DAY 4 remaining and the most exciting part is over. I'll continue on Monday most probably because I'm going camping tomorrow and Sunday is Father's Day.


Posted By bellatrix at 06:50 AM