September 16, 2010
So last night I was playing a late night session and two awesome things happened. 1)I busted some guys account and 2)Grimstarr sat with me. Now I'm dating myself a bit but when I first started playing Grimstarr was a player who played high stakes. His graph is legendary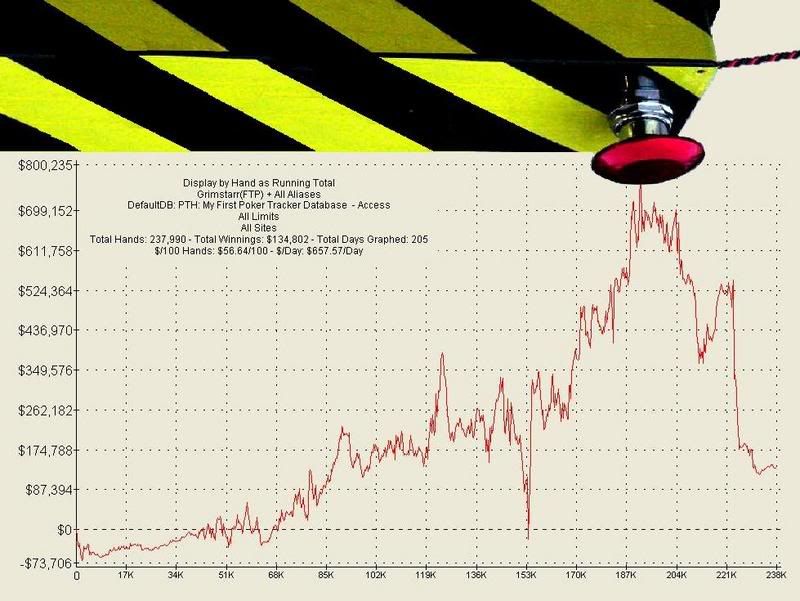 Also, he was one of the first to back out of a flip and to go to a table just to steal blinds and leave. Back in the day those situations were known as "getting grimmed"There are a couple hilarious threads including this one. Thinking back on it it's a bit sad that he's now 6 tabling 100nl trying to grind a roll back up but I couldn't help laugh at it.
 In other poker related news I'm just about done with the first two episodes of DOTF 200nl. It's been fun making the jump to 200 and hopefully it continues the rest of the year.
As far as poker travels I'm 50/50 whether or not I'm going to go to Barcelona in November for the EPT event there and I'm definitely going to Atlantis in January for the PCA. Barcelona depends on how I do in September and October and how well I run in the satellites.

-----------------------
 Nobody stands taller than those willing to stand corrected.  ~William Safire
Posted By bosoxx34 at 08:52 PM