December 07, 2010
This week I have just moved up to the $22 STTs on FTP and seem to be crushing them - well if you count in Skalansky dollars! The exchange rate for these does'nt seem too good at the moment.
I have only played 35 of these $22s at the moment so its very early days but my ROI is -21%. Pretty bad hey. And literally on the plus side is my $EV adjusted, sitting at +18.5%
I have thrown in another 5 at the $11s and I have a 50% ROI diff in these too! I must have upset one of the Poker Gods. 
So at the moment I still feel I can beat the $22s easily and just have to push through this downturn without tilting. I decided that starting this blog may just help and it will allow me to laugh about it at a later date/blog.
Poker can be a nightmare at times and if you are squimish about very short bad runs look away now here comes the graph.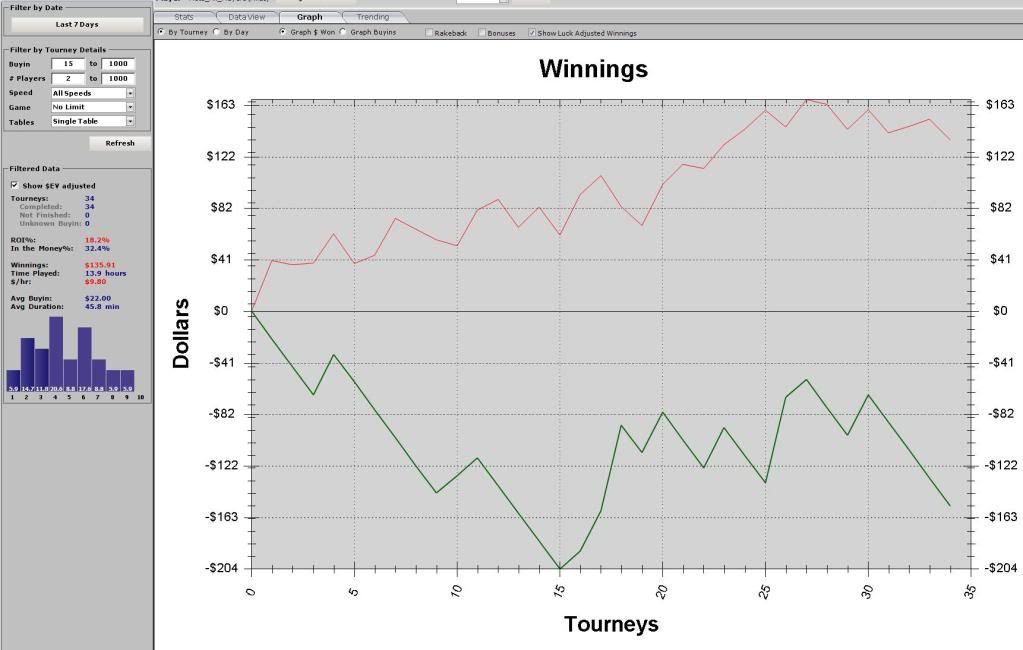 Well I am hoping that things won't get much worse and the next post is less of a moan. Anyway, I do feel a little relieved so I think I'll get back to the tables - In the words of the great prophet Britney Spears - "Hit me Baby One More Time"
Posted By BaseMetal at 01:58 AM